What is Kinesio® Taping?
Kinesio Taping has been breaking new ground in the fields of sports performance and pain management since the mid-1970s but it popularity soared due to the 2008 Olympic Games. No matter what sporting event you tuned in to watch you would see an athlete utilizing Kinesio Tape. Kinesio Tape can alleviate pain, reduce inflammation, relax muscles, enhance athletic performance, help with rehabilitation and provide support to muscles during a sporting event. The tape has a texture and elasticity very close to living human skin which allows for free movement of the skin, tissue and muscular structures.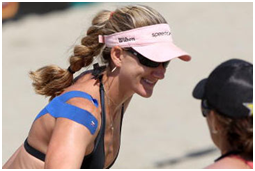 Kinesio Taping Method is designed to facilitate the body's natural healing process while allowing support and stability to muscles and joints without restricting the body's range of motion. It is used to successfully treat a variety of orthopedic, neuromuscular, neurological and medical conditions.
Most injured tissue has edema, also known as swelling, and when the tape is applied using a specific technique and specifically stretched, not only can fluid be directed to be drain but can also assist the body to relieve pain and aid muscle and joint rehabilitation. The tape has the proper amount of elasticity, adhesiveness and breathability. The technique used to apply the tape lifts the skin microscopically to allow for increased blood flow and lymphatic fluid flow and reduced inflammation and pain.
What are the Effects of Kinesio® Tape?
Re-educate the neuromuscular system
Improve lymphatic function
Reduce inflammation
Reduce pain
Optimize performance
Prevent injury
Corrects misalignment of the joint
Corrects posture
Promote improved circulation and healing
For more information about how Chiropractic can help, please visit our What is Chiropractic? and FAQ's pages. Or feel free to just give us a call at (973) 845-6282.