Tennis Elbow Relief with Chiropractic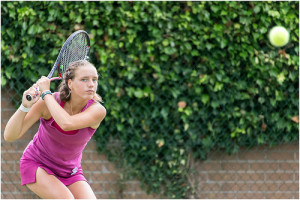 Photo via Creative Commons

No one will argue that playing a sport you love keeps you healthy, but overdoing it or not doing it right can certainly cause some problems for you.
If you play a sport that involves the use of a racquet and excessive force, it is highly likely that you have irritation or soreness around your elbows. This irritation or soreness is generally called a "tennis elbow" or "golfer's elbow", scientifically called lateral epicondylitis. Many people who play tennis regularly are usually unaware that they have been a victim of a sports injury upon excessive play. They realize it substantially later when they experience:


A burning sensation on the outside of the elbow


Weakness in wrist or forearm


Difficulty extending the forearm due to elbow weakened flexibility


Pain when lifting or carrying items









If you experience any of these symptoms, chances are you have a 'tennis elbow'. Overusing the elbow in other activities like cooking, lifting weights, and painting might also cause this problem. Medical doctors cure this by painkillers and in serious cases, with the use of steroid injections which are notorious for causing problems later. So is there any alternative?

Fortunately, Florham Park chiropractor Dr. Rivano has the cure for you. With the right chiropractic care the immediate symptoms of a tennis elbow can be relieved, reducing pain and speeding up the recovery of the damaged tendons.

With chiropractic techniques such as cross-friction massage and myofascial release, the blood circulation can be greatly improved which facilitates damaged tendons in the healing process. To reduce the pain, electro-stimulation and ultrasound techniques can be used so that the muscles get the energy they need to heal as quickly as possible.

Chiropractic care also involves a series of specifically designed exercises, which can prove especially beneficial for you in gaining the strength back in the damaged muscles so that future sport injuries can be prevented.

Scientific studies also suggest chiropractic care as a safe alternative to pain related, sports or auto injury related problems.

In Florham Park, NJ at Rivano Chiropractic Health Center, Dr. Rivano provides excellent chiropractic care and treatment procedures which not only help relieve you of a tennis elbow but other sports-related muscular injuries, neck pain, and back pain as well. If you are going through a similar problem, feel free to contact!